Dentures need to be cleaned every day with products that are made for them. Cleaning them keeps them looking good and lowers the risk of bacterial growth and any resulting health issues. These actions can help to ensure your oral health:
Use a specific toothbrush to clean your dentures, and immerse them in water or a cleaning solution every day.
When you go to sleep, remove them.
Regularly make appointments with the dentist.
When your dentures are out, be sure to brush the inside of your mouth.
How to Properly Clean Dentures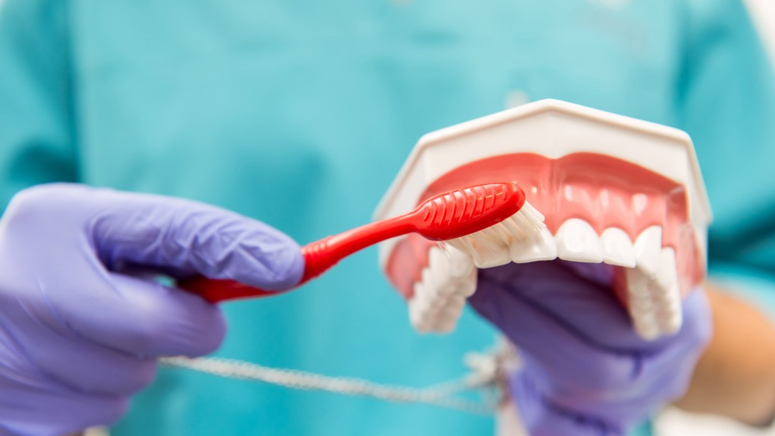 It's critical to properly clean your dentures. Your dental health and general health may suffer if you neglect to care for your dentures.
If you don't take care of your dentures, you could be at risk for having the following conditions:
Denture stomatitis that results in swelling or a sore in the mouth. [1]
Foul breath
Pneumonia [2]
Change In tastes
Dentures may deform or become soiled if they are not properly cared for.
According to a 2016 study, you should take into account the following three things when cleaning your dentures:
Ensure to remove plaque and stains when cleaning
Your dentures shouldn't be harmed by the cleaning agents you use. This might make them more difficult to wear and encourage the growth of bacteria.
Antimicrobial cleaning should be used.
Standard denture cleaning procedures can help you reduce bacterial growth and protect your dentures from harm. The Oral Health Foundation [3] made a report in 2018 that a global workgroup published four normative standards for cleaning dentures:
Regular brushing
Daily soaking
Removing dentures at night
Scheduling frequent dental checkups
When you remove your dentures to clean them, don't forget to clean the rest of your mouth as well. To maintain your mouth health, you should use a toothbrush to brush the inside of it. Ensure to brush every part of your mouth including your tongue, gums, and the roof of your mouth. Make sure to brush twice daily.
Here are some more specific instructions on how to accomplish this.